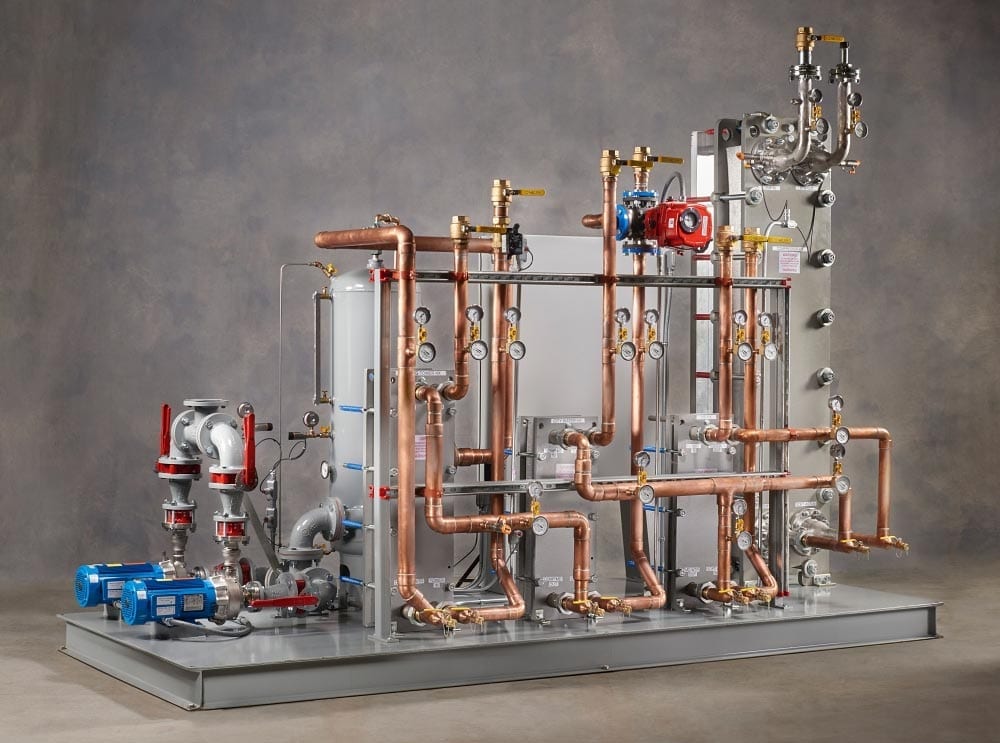 IMEC just completed a Heat Recovery system, featuring plate frame heat exchangers, for a manufacturing facility of Cedars Mediterranean Foods.
Assessment and Recommendation
The facility team at Cedars had purchased new Atlas Copco ZR 90 VSD-FF air compressors that offered a Heat Recovery option allowing the compressors to generate Hot Water. We proposed to provide a series of Plate Frame Heat Exchangers to reclaim this heat by pre-heating the boiler feedwater. The first Heat Exchanger captures the low grade heat from the MD Air Dryers and the second Heat Exchanger captures the high grade heat from the Air compressor circuit. An additional heat exchanger was added to preheat water for the CIP process.
Energy Savings
The forecasted savings based on the Air Compressor load profile is 30,709 therms assuming 8,640 hours/year operation. Based on a cost of $1.00/therm, the total cost savings is more than $30,000 per year. This Energy Efficient Measure (EEM) qualifies for a National Grid incentive.
Complimentary Energy Efficiency Evaluation
SPECIAL OFFER
Learn about how our scientific approach to sustainable mechanical engineering will take your facility into a future of ultra efficiency.

Our engineers will dramatically improve your plant efficiency and help you take advantage of utility company rebates to cover a portion of the cost.
Through a combination of generous utility company rebates and IMEC's high-efficiency engineering solutions, you'll realize the benefits of streamlined mechanical systems that produce huge annual power savings.
We recently completed a project that is saving a customer over $1,100,000, annually.
Even if you don't think you need a new mechanical system, it's likely that we will discover a facet of your facility's efficiency that can be improved dramatically. As an Authorized National Grid Project Expeditor, we also manage the utility rebate process for you.
Submit this form to receive your Complimentary Energy Consultation and Systems Evaluation:
Plant walkthrough
Identification of energy-saving projects
Estimated ROI / Payback time
Projected utility company rebates
An IMEC sales engineer will contact you to arrange a Complimentary Energy Consultation and Systems Evaluation.