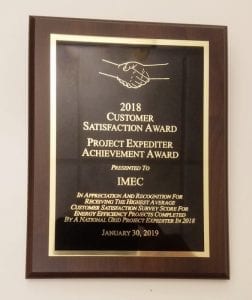 In February, during National Grid's Project Expeditor Kickoff Meeting, IMEC was presented with the 2018 Project Expeditor Award for Customer Satisfaction. In her presentation remarks, Marie Raphael of National Grid described the process of surveying customers with recently completed energy-efficiency projects regarding the satisfaction and value provided by Project Expeditor firms. IMEC received the highest rating, along with notable positive comments.
"Knowing that customers are pleased with our work and are willing to say so in a private survey is very meaningful,"
said IMEC president Joe D'Ambrosio, "It's touching to receive such recognition because we put our hearts and souls into doing the right thing in every facet of each project."
For information, call 978-772-7333.
Complimentary Energy Efficiency Evaluation
SPECIAL OFFER
Learn about how our scientific approach to sustainable mechanical engineering will take your facility into a future of ultra efficiency.

Our engineers will dramatically improve your plant efficiency and help you take advantage of utility company rebates to cover a portion of the cost.
Through a combination of generous utility company rebates and IMEC's high-efficiency engineering solutions, you'll realize the benefits of streamlined mechanical systems that produce huge annual power savings.
We recently completed a project that is saving a customer over $1,100,000, annually.
Even if you don't think you need a new mechanical system, it's likely that we will discover a facet of your facility's efficiency that can be improved dramatically. As an Authorized National Grid Project Expeditor, we also manage the utility rebate process for you.
Submit this form to receive your Complimentary Energy Consultation and Systems Evaluation:
Plant walkthrough
Identification of energy-saving projects
Estimated ROI / Payback time
Projected utility company rebates
An IMEC sales engineer will contact you to arrange a Complimentary Energy Consultation and Systems Evaluation.